Process of DSA Registration
1. Please submit your online application on our website.
2. Please make the necessary payment by online or offline method.
3. On successful payment we will contact you and will collect necessary documents.
4. On successful submission of documents, our legal team will initiate proper due diligence, CIBIL check.
5. On getting clear due diligence report, we will deliver the DSA registration agreement with proper stamp duty and applicable incentive list on loan files disbursals.
6. On getting proper and complete stamped and signed agreement, we will issue the DSA code for you.
7. On getting DSA Code you may start login Loan files and cases to us.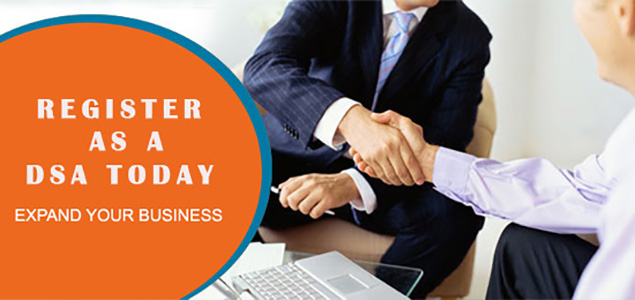 Need help finding the best loan and finance options?
Consult an Expert: +91 - 9313803227, 9911113227 Monday - Saturday 10.00am - 6.00pm.
Banks & NBFCs

Associated with +500 Nationalize Banks, Multinational Banks & NBFCs.

Esteemed Clients

Clientele includes Individuals, Business Firms & Corporates.

Loans Approved

Over 900 Business, Industrial & Homes Loans approved.

Home & Property Loans

Over 450 Home & Property Loans approved & financed.